Return to Headlines
Yellow Zone Testing Numbers and Update 12/18/2020
Dear Parents, Guardians and Staff in the Yellow Zone,
As you are aware, schools in the 10956 zip and the Chestnut Grove District Office have been identified as being in the "Yellow Zone" as part of the Governor's New York Cluster Act initiative. As such, those locations are required to test 20% of in-person students and staff within a two-week period.
Our testing window runs from December 8 - December 22. Below is a status report as of 1 pm today. The student and staffing numbers are based on parents' selection of hybrid for their child.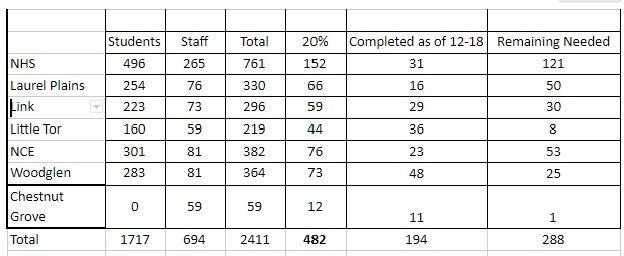 If a location reaches the 20% threshold, and its positivity rate for COVID-19 is under the overall positive rate for the entire Yellow Zone, the location will no longer have to do testing. If the threshold is not met, that location will have to continue to test 20% of students and staff when in-person learning resumes on January 19, 2021. The actual number target for this testing period may be adjusted based on an assessment of hybrid enrollment/attendance throughout the testing period.
You can find a testing location at the state website or by calling the NYS COVID-19 hotline at 1-888-364-3065. The state also runs a free test site at the Anthony Wayne Recreation Center located at Exit 17 Palisades Parkway, Bear Mountain, NY 10911. Call (888) 364-3065 for an appointment. You or your child can also be tested at your healthcare provider or pediatrician if they offer that service.
There is no mandatory type of test for the purpose of Yellow Zone testing. Any diagnostic test administered by a state or local health department or healthcare professional will do. Please note an antibody test is not a diagnostic test and therefore not acceptable.
If you have any questions, please contact Sue Sherlock, Coordinator of Health Services
at ssherlock@ccsd.edu or by phone at (845) 825-2074.



Dr. Martin D. Cox
Superintendent of Schools


Sue Sherlock, F.N.P
Coordinator of Health Services